The Final Test
A Biography of James Ball Naylor
Hardback
ISBN 978-0-9832342-4-1
On Sale $23.00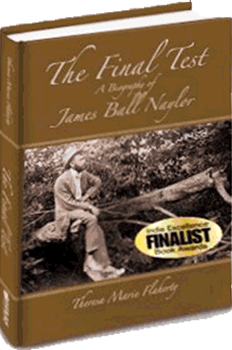 eBook
ISBN 978-0-9982215-6-4
James Ball Naylor, one of the most well known men in the country at the turn of the twentieth century, has since faded into the shadows of obscurity. His story is an inspirational account of his rise from an impoverished childhood, his fight to get an education, his struggle through hardships in becoming a country doctor in rural Ohio, the development of his passion for writing that took form in poetry, novels and children's books. He became well known as an entertainer and a speaker on the Lyceum and Chautauqua Circuits, as well as a political force both as a candidate and as a newspaper columnist.
James Ball Naylor, a man with strong moral character and integrity, was dedicated to his family and to making life better for others as a medical doctor. His contributions and accomplishments as an educator, public speaker, entertainer, public servant, and politician were numerous. His involvement in politics brought him more than passing friendships with local and national politicians, including Warren G. Harding, whom he knew from their earliest days in politics. This close association with Harding led to Naylor's thirteen-year stint as a columnist for the Marion Star, but his staunch support of Harding in the face of the scandals after Harding's death affected Naylor's reputation as well.
Exceptionally gifted with a natural ability, Naylor's passion for writing led to his greatest success, that of a poet and best-selling author. He painted word pictures that rivaled the finest brush strokes on canvas to bring his stories and poems to life for his readers.  Ralph Marlowe, Naylor's 1901 best-selling novel, remained on the best-seller list for six months and could be found throughout the United States and Europe. At the pinnacle of his career Naylor was one of the most-read authors in the country.
Naylor's story depicts a slice of western American history at the turn of the twentieth century and reflects many of the hardships and successes that were endured by men and women who moved the country forward.
James Ball Naylor's life story is a truly fascinating human interest story about one individual who passed the Final Test!
Publication Date
May 1, 2011
Visit Our James Ball Naylor Website
The Final Test
When all is said and all is done,
When all is lost or all is won—
In spite of musty theory,
Of purblind faith and vain conceit,
Of barren creed and sophistry:
In spite of all—success, defeat,
The Judge accords to worst and best,
Impartially, this final test:
What hast thou done with brawn
and brain,
To help the world to lose or gain
An onward step? Canst reckon one
Unselfish, brave or noble deed,
That thou—nor counting cost!
Hast done
To help a brother's crying need?
Not what professed nor what
believed—
But what good thing hast thou
achieved!