JOHNNY APPLESEED IN A RICH LAND
Paperbook
ISBN 978-0-9982215-9-5
On Sale $16.00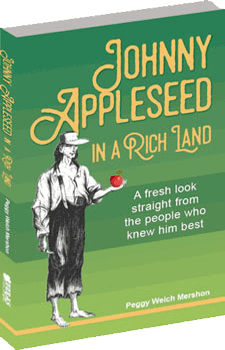 eBook
ISBN 978-0-9982215-5-8
The pioneers of Richland County, Ohio, lived beside John Chapman from the minute they settled the area, around 1808, until he refocused his efforts of planting appleseeds and spreading the religious teachings of Emanuel Swedenborg to Indiana in the late 1830s. They saw him walking down the streets of Mansfield, they welcomed him to their cabins, they listened to his stories, they saw him sleeping by their hearths and most called him fondly "Uncle Johnny" even though he had chosen a life much different than their own. Johnny Appleseed in a Rich Land tells their stories about the man who came to be called Johnny Appleseed and thus reveals a very close-up picture of a neighbor who would later be turned, by people who never met him, into a legend. This book for the first time reprints two newspaper articles from 1839 and 1840s, the first found to include him as a character, then called "the Swedenberger." These don't focus on apples but on his dedication to Swedenborg and his desire to help his neighbors in an early time of crisis.
This book also includes stories by a nationally known author who was the third generation of her family to know Chapman well. She watched him over her mother's shoulder and listened to his opinions on many subjects. She also listened and recorded her elders. She caught him in moments of casual chattiness and real anger. It's the closest we can get to Chapman actually putting his own words to paper, which he almost never did.
This book also includes stories, long out of print, told by other Richland County pioneers, stories kept alive in 1850s newspapers by early historians. These show where the legends started and include incidents seldom printed elsewhere. This book shows the very first picture of Johnny Appleseed which appeared in a local history around 1860. It was said to have been drawn by a person who had actually met him and approved by others who remembered. It is the closest we come to a photograph.
Johnny Appleseed in a Rich Land is the closest we come to reality.
Publication Date
August 15, 2019