A LITERARY PLAYGROUND – SHORT STORIES
Third in a Tribute Series to James Ball Naylor
Paperback
ISBN 978-0-9832342-2-7
On Sale $22.00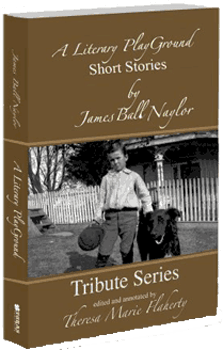 Written more than one hundred years ago, the twenty-three short stories in this volume reflect an era very different from today, yet reveal enduring heartfelt sentiments. Possessed with an astonishing recollection, James Ball Naylor, a best selling author in 1901, drew on memories of his childhood in the 1860's for those stories about young boys, particularly in "Beggars Awheel," an adventure story about two teenage boys on a 250-mile bicycle trip. Written at a time when bicycles were considered strange contraptions, this entertaining story provides an interesting contrast to the past for today's readers.
His deep love for his family shines through in the little details that define relationships between characters in his love stories, such as "A Counterfeit Coin." In other stories, such as "One of Morgan's Men," he was clearly influenced by events in the Civil War, especially the death of his father.
A country doctor in rural Ohio, Naylor recognized the fascination of the uninitiated in matters of medicine long before CSI became a staple of prime time TV. Medical details play a large part in two of these stories, "The Coming of Sawlus," and "The Blackmer Affair."
James Ball Naylor practiced the art of story telling by exploring different topics and types of characters as a way to bring his own experiences to life. He used short stories as a literary playground where he learned to follow, and to bend the rules, and where he discovered his "voice."
Exceptionally gifted with a natural ability, Naylor's passion for writing led to his greatest success, that of a poet and best-selling author. He painted word pictures that rivaled the finest brush strokes on canvas to bring his stories and poems to life for his readers. At the pinnacle of his career at the turn of the twentieth century, Naylor was one of the most well known authors in the country.
Publication Date
December 15, 2012
Visit Our James Ball Naylor Website