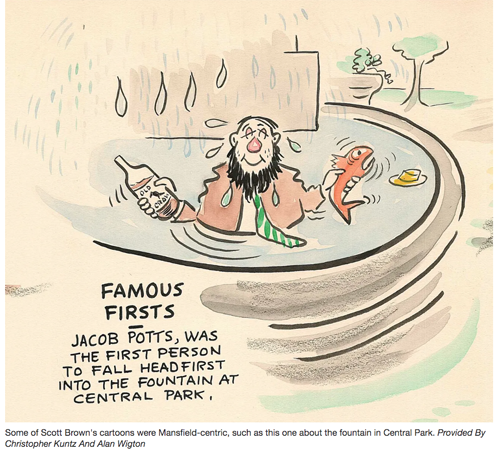 Scott Brown was born to draw. He sold his first cartoon when he was 10. When Brown was 14, he fell into a quarry, shattering his right elbow.
He didn't let that stop him. Brown taught himself to be ambidextrous.
The Mechanicsburg native, who later became a Mansfield fixture, grew up to be a national cartoonist. Brown's work appeared in The Saturday Evening Post, The New Yorker and Colliers, among many others, from the 1930s to the 1970s.
Christopher Kuntz, Brown's grandson, has chronicled Brown's story and cartoons in a book called, simply, "Scott Brown: Cartoonist" through Turas Publishing.
"It didn't really start out as a book so much," said Kuntz, who lives in Seattle. "I had a little bit of time on my hands. In that setting, I started thinking more about my grandfather.
"He was a super important person to me."
Kuntz was born in Indianapolis, but his family would often visit Brown and his wife.
"The first thing he would do is pull out a set of checkers. We would play an unbelievably long time and drink lemonade," Kuntz said. "He made you feel like you were the only person in the room."
Brown's family ran a soda shop at Helen and Fourth
While Brown earned national acclaim as a cartoonist, many people in Mansfield knew him from his family's store, Brown's Soda Shop, at the corner of Helen Avenue and Fourth Street. The drugstore and soda shop store was open from 1918 to 1970.
Kuntz initially wanted to gather information on his grandfather for a Christmas present for the family, but it turned into a bigger project.
He and his middle son, Jon, visited museums and pored through Brown's archived work. The Billy Ireland Library & Cartoon Museum in Columbus was a main source.
"As I began to learn more, I started to meet more people," Kuntz said.
He recalled meeting with Bob Carter, a historian and author.
"I was sitting in the basement with him," Kuntz said. "He planted the seed in my mind that this should be a book."
Terry Flaherty, of Turas Publishing, wasn't so sure.
"She thought it was too complicated," Kuntz said.
Starting about a year and a half ago, Kuntz and Flaherty worked on the project for a solid year, meeting twice a week on Zoom.
"The book has been through 60 edits," Kuntz said. "I've driven her nuts."
On May 15, "Scott Brown: Cartoonist" was published in hardback. Kuntz included many cartoons that appeared in the Mansfield News Journal.
Brown's father ran a grain elevator in Mechanicsburg
Brown was born on Christmas day 1909 in Mechanicsburg, where his dad ran a grain elevator. Those days influenced some of Brown's early work.
The family moved to Mansfield in 1918, and Brown's father opened the soda shop/drugstore.
After high school, Brown left Mansfield to attend the Chicago Institute of Art. From there, he went to New York City. The Great Depression made life tough for almost everyone.
"By early 1930, he came back without a penny," Kuntz said of his grandfather. "He found that the soda shop was his place. A lot of people over 65, 70 years old in Richland County remember him."
Brown worked at the soda shop by day and drew cartoons at night. Most of his income came from cartoons.
Kuntz recalled his grandfather as a quiet person who had a perpetual grin on his face.
"He listened more than he talked," Kuntz said of Brown.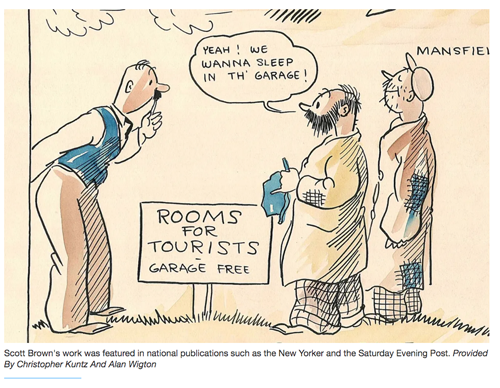 Kuntz said Brown "loved dogs and dogs loved him." Describing his grandfather as the "opposite of judgmental," Kuntz said Brown accepted other people.
Book was a labor of love for Brown's grandson
He added he became a happier and funnier person by getting to know his grandpa, who passed away in 1982. Kuntz even has a bumper sticker on his car that reads "What Would Scott Brown Do?"
Brown used to say a chuckle and a chocolate soda would make any situation better.
"What I'm trying to do with this book is to get out his message in life," Kuntz said. "He has a message for this time. He was a person who wanted to unite others."
"Scott Brown: Cartoonist" is available for $49.50 at TurasPublishing.com. It also can be found at Barnes and Noble, Amazon and most other bookstores.
"(It) is not just a fascinating biography of a mid-20th century cartoonist deserving of wider acclaim, but it's also a heartfelt love letter to family and family history, a glimpse into the surprisingly vast world of Ohio cartooning tradition and an exciting read full of everything from cats with gold teeth to weather-predicting turtles," wrote Ben Towle, a five-time Eisner-nominated cartoonist and professor of illustration at the Columbus College of Art and Design.
Bob Carter, who convinced Kuntz to write a book, also weighed in.
"The story's star is his grandfather, Scott Brown, a genius cartoonist, artist and weather predictor," he wrote. "A must-read for Brown descendants and a great read for others who are not."
mcaudill@gannett.com
419-521-7219
Twitter: @MarkCau32059251