AND THEN OPENS POSSIBILITY
Paperback
ISBN 978-0-9832342-6-5
On Sale $15.00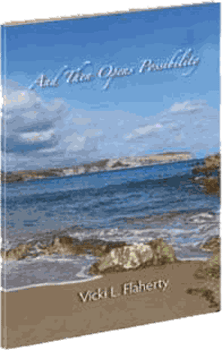 And Then Opens Possibility is a book of poetry that invites you to pause and embrace the richness of life. You'll be encouraged to look within yourself, explore the range of your emotions, and make personal connections. Each poem is like a short meditation that brings you into the present moment.
It's a timeless book about the human experience that opens you to the possibility of greater peace, clarity, and purpose. Each of the three chapters – 'Truth's Whisper', 'Into the Deep' and 'Someone to Catch Me' – pulls you into the present and ultimately shines a light on joy. Inside you'll find a handful of full color landscapes that encourage mindful pausing. Perhaps you will find yourself slowing down long enough to hear your inner voice and the essence of who you are speaking. Perhaps you will find a safe place for lingering in the darkness, where the desire to be alive drowns out any fear that holds you back. Perhaps you will find the joy and gratitude that's possible from truly experiencing personal connection with others.
The book is dedicated to all those courageous to look inside themselves where possibility awaits.
Publication Date
October 15, 2017