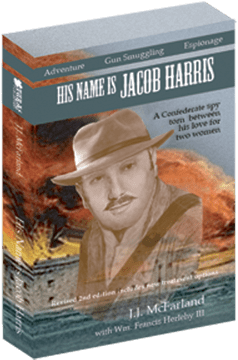 by J.J. McFarland
with Wm. Francis Herlehy III
The themes portrayed in His Name is Jacob is about betrayal, conspiracy, romance and adventure in this novel about two brothers serving in the Confederate Army. The historical background of the Civil War may surprise many readers: secret societies and connections to Canada and England. This 2nd Edition resolves a cliff-hanger that ended in the 1st Edition.
In His Name is Jacob Harris (2nd Edition), the main characters of the book are loosely based on the author's great-great grandfather, Jacob, and Jacob's brother, Lorenzo.  They were adopted when quite young after Indians massacre the rest of their family. They are plunged into an historical background that will be surprising to many readers, such as the Confederate Navy, connections to Canada and England, secret societies, and the financing of the Confederacy. Although a love story is woven into their adventures, the backdrop of the romance is the Civil War and the Confederacy's effort to keep the Southern way of life.  The story introduces many aspects of the Confederacy's attempts to win the war; their naval threat against Union shipping, the smuggling of arms from Liverpool to the port of Charleston, the Confederate Secret Service's subversive activities in Canada, and how secret societies such as the Knights of the Golden Circle, the Sons of Liberty, and the Copperheads Order sabotaged northern transportation networks and even national elections.  Elements of the Civil War not often discussed in other books are included in this book. Surprises in it might challenge current thinking on the War Between the States and the brave men who fought it.
Betrayal, conspiracy, romance, and adventure are the themes portrayed in this narrative.  The story is more than romance, spies, Confederate organizations, and the conflict of opposing armies, however. It is a tale about people, the choices they make, about families separated by war and what that sacrifice means, and about men and womentrying to rebuild their lives after the war. It is also about loss, as well as acceptance.
Although the previous edition ended on a cliffhanger with no promise of resolution, this 2nd Edition contains one additional chapter that changes the ending.
Additional information
| | |
| --- | --- |
| Weight | 1.025 lbs |
| Dimensions | 6 × 9 in |
Share your thoughts!
Let us know what you think...
Only logged in customers who have purchased this product may leave a review. Log in now